6 IN 1 Blackjack Explained
Casinos hate blackjack. Seriously. They need to offer it because so many people out there want to play it, but man, do they not want to have it there.
This is because the house edge on blackjack is so minimal that the house is barely going to make any profit on it. If you can get a good blackjack strategy down (and no, we do not mean counting cards), then you are going to win just about every time. Good for you.
Not so good for the online casino. This is why many online casinos, and land casinos for that matter, have looked into ways in which they can swing the house edge their way. Introducing 6 in 1 blackjack.
What Is 6 in 1 Blackjack?
I am positive that you already know the rules of blackjack, yes? If you don't, then you may want to play some normal blackjack before you do 6 in 1. While the game is similar, it can be a bit more complicated in some areas.
With 6 in 1 blackjack, you can have your normal bet (i.e. betting for 21 etc.) but, you can have up to six different side bets. Each of these side bets have their own merits. You can, of course, get multiple bets come through at once, but it is unlikely as winning one of the side bets may block off another of the bets. Anyway, these are the six side bets:
Buster Blackjack: dealer excess is paid out to you.
Suit'em up: if you get the same suit on the first draw. Probably the easiest of the side bets to win.
Lucky Ladies: if you get one or two queens on the first draw. This side bet is nifty insofar as the fact that it will also pay out if you get 21 on your first draw too.
Lucky Lucky: pays out if the player gets 19,20, or 21 on the first draw.
21+3: this is one of the more difficult bets to win, but if you are into your poker then it may be nice for you. This side bet is actually based upon three card poker.
Perfect Pairs: pays out if the first cards that the player draws are either the same suit or the same number.
Honestly, all of these bets have a decent chance of coming through. However, you are not encouraged to bet on all of them at once. This is exactly what the online casino wants you to do. If you do that, then you will be kissing goodbye to all your money.
My personal suggestion, is that you play about with the bets. Go for two to three of them at a time. Get a feel for which ones seem to work based upon your own personal playing style. Remember; these bets tend to come through only for the first draw and will not payout should something happen throughout the rest of your game of blackjack, so you are going to need to ensure that you get the rest of your blackjack skills on point.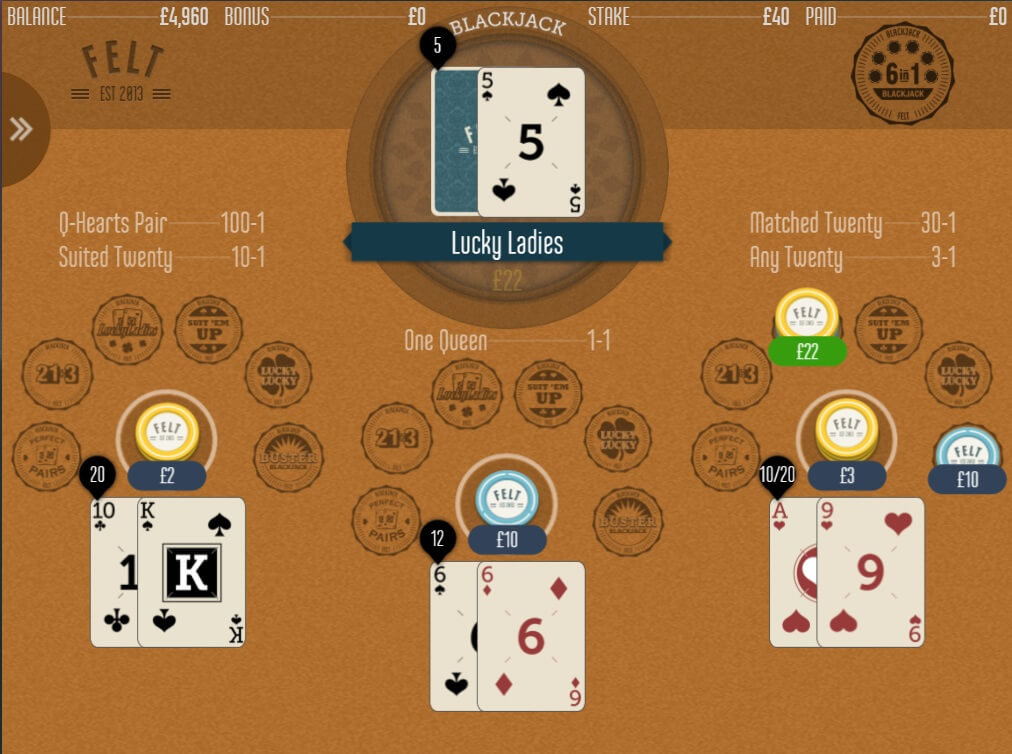 How to Find an Online Casino Which Offers 6 in 1 Blackjack
This is one of the rarer game variants at the moment, although it does seem to be getting a bit popular. This may make it difficult to find somewhere to play. Here are a couple of tips:
Choose somewhere which offers a plethora of different games. As fun as 6 in 1 blackjack is, you are going to get bored quickly if that is all the site offers.
Choose a site which has a good reputation. This can include newer casinos.
There should be some decent rewards 'in place' for you to sign up and to continue playing on the website i.e. your site bonuses.
Play Six in One Blackjack Today
If you are itching to play 6 in 1 blackjack, and we bet you are, then you can check out a couple of the online blackjack sites that we have listed below. All of these have been 'hand picked' by the team that we have here, so you know that they are good places. If you do not want to play this variant of blackjack, then you will find a couple of other games too.